Transparency Act – Annual account for due diligence
The Norwegian Transparency Act entered into force 1. July 2022. This is a publication of Jotun's account for due diligence per 30th of June 2023, in accordance with Section 4 and 5 in the Act, approved by the Board of Directors and CEO the 26th of May 2023.
Organisation
Jotun is a global company made up of 67 companies in 46 countries, including 40 production facilities. The company extends its reach to other countries through a network of subsidiaries, joint ventures, associated companies, sales offices and distributors. The parent company, Jotun A/S, is headquartered in Sandefjord, Norway. Of the Group's operating revenue, approximately 10 per cent is related to its activities in Norway, while 90 per cent is related to the rest of the global network.
Jotun's business is organised into six regions: West Europe and Scandinavia (WESCA), East Europe and Central Asia (EECA), Middle East, India and Africa (MEIA), North East Asia (NEA), South East Asia and Pacific (SEAP) and Americas (AM).
Jotun's product and service offerings are organised into two units: Decorative Paints and Performance Coatings, and four business segments; Decorative, Marine, Protective and Powder Coatings.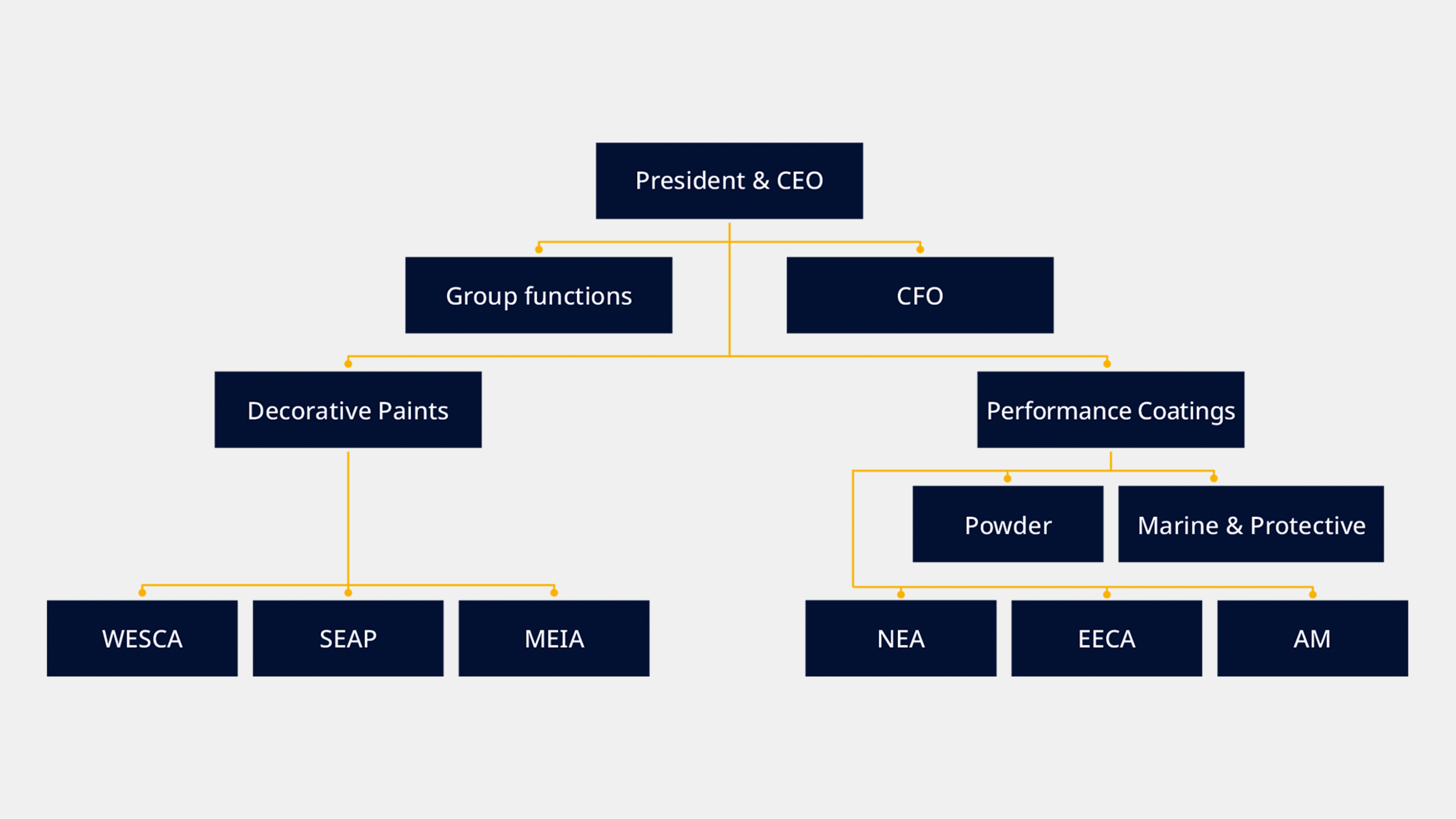 Jotun's four business segments
DECORATIVE PAINTS (38% of the revenue): Jotun Decorative is a leading paint supplier to commercial buildings, public buildings and homes, serving both professionals and homeowners, directly and through a substantial network of Jotun Multicolor centres.
PROTECTIVE COATINGS (27% of the revenue): Jotun is a leading supplier of high-quality protective coatings for on- and offshore oil and gas facilities, power generation, renewable energy and infrastructure projects. Our product range in this segment includes intumescent coatings, topcoats, high temperature coatings and state-of-the-art, proven anticorrosion protection products.
MARINE COATINGS (27% of the revenue): Jotun is the market leader in marine coatings, delivering hull performance solutions, and high-quality coatings for newbuilds, drydockings, onboard maintenance, cargo tanks and cargo holds to the global shipping industry. Jotun also supplies premium coatings to mega yachts and leisure yachts.
POWDER COATINGS (8% of the revenue): Jotun Powder Coatings is a leading supplier to companies active in industries related to building components, general industries, pipelines, appliances and furniture.
Jotun's commitment to human rights
Jotun has embedded the OECD Guidelines for Multinational Enterprises in its own Human Rights Policy.
Jotun's social sustainability framework is based on the company's Human Rights Policy. The policy is aligned with the United Nations Guiding Principles on Human Rights and the International Labour Organisation's (ILO) Declaration on Fundamental Principles and Rights at Work. The company adheres to the United Nations Global Compact (UNGC) to contribute to the goal of creating a sustainable and inclusive global economy.
Jotun's whistle-blowing channel is open to both internal and external stakeholders who may wish to report on suspected violations of Jotun's Business Principles, laws or regulations. Reports can be made openly or anonymously and once a report is logged, it is investigated and resolved. All reports are handled confidentially, and individuals are protected and treated with respect. The solution is compliant with GDPR.
Risk based assessment is regularly conducted with a particular focus on fundamental human rights and decent working conditions. Due diligence of Jotun's companies and supplier's basic requirements in the Human Rights Policy are conducted to ensure compliance with internal policies, local laws and regulations.
Risk areas – own business
Gender equality in conditions/pay/equal positions.
Working hours.
Freedom of associations and trade unions.
Temporary workers.
Immigrant workers.
Lost time injury/injury rates.
Sick leave.
Measures implemented – own business (all Jotun companies)
Control reports on salary reviews, working hours, equal pay for equal job and gender pay equality measures.
Proper employment contracts for all employees.
Control reports and follow up employment contracts for temporary workers.
Global program with parental and caregiver leave and other benefits.
Insurance policy covering injuries of loss during business travels, medical treatment, invalidity, disablement related to employment and any cause of death.
Welfare committees/communication teams to secure open communication between employees and management where freedom of association is forbidden by law.
Fair policy, conditions and care where we have immigrant workers.
Yearly arrangements related to a number of central topics, such as International Women's Day, Diversity Day, Well-Being/Mental Health Day and Human Rights Day.
Regularly employee engagement surveys, followed up with action plans and feedback to employees.
Safety walks and mandatory emergency drills.
Global reporting system of sick leaves, incidents and near misses.
Risk areas – suppliers
Suppliers in risk areas - regions/countries.
Supplier's workers welfare with regards to contracts, conditions, HSE-standards and competence, use of personal protection equipment (PPE).
Measures implemented – suppliers
"Supplier integrity declaration" is distributed to suppliers.
Expect our suppliers to support the principles in this declaration and to implement the same standards with their suppliers and subcontractors.
Through EcoVadis assessment and supplier audits, the different suppliers are placed in different categories:
Pass: Always feedback to supplier with areas for improvements based on the result of the audit. The agreement with the supplier will continue.
Temporary pass: Feedback to supplier with areas for needed improvement. Suppliers are given 6-12 months to document improvement to meet "pass".
Fail: Feedback to supplier with areas for improvements. If the supplier fails to document sufficient improvement in a short time, Jotun will terminate the contract.
Status assessments and audits: Six per cent of suppliers with "temporary pass" and measures for improvements have been followed up. 0,01 per cent of suppliers with "fail" and contract terminated.
Jotun is committed to develop an organisational culture and a relationship with our business partners that respect internationally recognized human rights and seek to avoid human rights abuses. We respect the local laws and regulations in every country in which we operate. If local legislation conflicts with the requirements in our human rights policy, Jotun complies with local law while implementing relevant measures to ensure respect for human rights and decent working conditions.